María Soto Quesada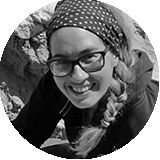 2022-2023
Tomás y Valiente fellow
MIAS-UAM
MobiLithics: Fingerprinting the Exploitation of Stone Resources
María Soto Quesada has obtained a Erasmus Mundus Master in Quaternary and Human Evolution (2010) and a European Doctorate in Quaternary and Prehistory at the University Rovira i Virgili (2015). She has been a Post-doctoral Associate at the Institut Català de Paleoecologia Humana i Evolució Social (IPHES, 2016), and at the University of Calgary (Social Sciences and Humanities Research Council of Canada) associated to the project 'Stone Tools, Diet and Sociality at Olduvai Gorge (SDS)' (2017-2019).
Her research lines are focused on the definition of the procurement strategies, mobility patterns and territorial exploitation of the Palaeolithic groups, through the physical-chemical characterization of rocks (Thin sections, ESEM, XRD, FT-Raman, EDXRF) and the GIS modelling in key archaeological sites for human evolution such as Olduvai Gorge (Tanzania) and Sierra de Atapuerca (Spain).
She is a member of 19 international R&D projects, including innovative outreach programs in Human Evolution. She is the author of several scientific papers (e.g. J.Arch. Sci, QSR and AAS), and book chapters, and aGuest Lecturer in different Undergraduate and Master Programs.
MobiLithics is a multiscalar project aimed at characterising the subsistence practices among Homo sapiens during its origin in Africa and their later expansion through the European continent. This project will provide high-resolution data through the investigation in two key scenarios, the Middle Stone Age – Later Stone Age Transition in the Aïn Beni Mathar-Guefaït basin (Western Morocco), and the Middle-to-Upper Palaeolithic transition in the NE of the Iberian Peninsula.
Spatial modelling, petrographic, geo-chemical and multivariate statistical analyses of the exploited lithic resources during the Upper Pleistocene (50-23 ka BP) will determine the procurement strategies and management of raw materials for manufacturing stone tools. These will become the archaeometric keys for understanding the territorial structure, mobility and occupation patterns, as adaptive responses of our species to changing climatic, cultural, and biologic dynamics on a global scale.
- 2021. Mercader, J., Akuku, P., Boivin, N. et al. (2021) Earliest Olduvai hominins exploited unstable environments ~ 2 million years ago. Nature Communications 12, 3.
- 2020. Soto, M., Favreau, J., Campeau, K., Carter, T., Durkin, P.R., Hubbard, S.M., Nair, R.,Bushozi, P,M., Mercader, J. (2020). «Systematic sampling of quartzites in sourcing analysis:intra-outcrop variability at Naibor Soit, Tanzania» (part I). Archaeological and Anthropological Sciences 12, 100.
- 2020. Gómez de Soler, B., Soto, M., Vallverdú, J., Vaquero, M., Bargalló, A., Chacón, M.G.,Romagnoli, F., Carbonell, E. «Neanderthal lithic procurement and mobility patterns through a multi-level study in the Abric Romaní site» (Capellades, Spain). (2020) Quaternary Science Reviews, 237,106315.