Cristina Bravo Lozano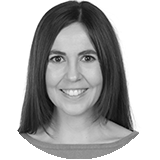 2022-2023
Tomás y Valiente fellow
MIAS-UAM
Monopoly, competence and territorial defence. The Spanish monarchy before the Scotch settlement in Darien, 1695-1700.
Cristina Bravo Lozano has a PhD in Early Modern History from the Universidad Autónoma de Madrid. She has been a postdoctoral researcher at the Universidad Pablo de Olavide (Seville). Among her topics of research, the Spanish-Irish relations in the 17th century, the diplomatic and cultural activity of the Spanish embassies in London, The Hague, Copenhagen and Hamburg after the treaties of Westphalia (1648-1702), and the confessional politics of Charles II in the Northern Europe stand out.
She is author of a monograph and she has co-edited six books. She has published the results of her research as articles in journals and contributions to collective volumes. She has participated in different seminaries and congresses, national and international, and has organized scientific meetings in Spain, France, Portugal, Germany and Hungary. All of this academic activity has been combined with teaching at bachelor, master and doctorate levels at different European universities.
The creation of a Scottish colony in Darien stands as a paradigmatic example of territorial expansion and commercial projection in America in the Age of Mercantilism.
The foundation in 1695 of the Company of Scotland Trading followed the model of other worldwide-trading nations, after the demise of the monopolistic hegemony of the Iberian powers. In an attempt to enter the overseas commercial circles, the Scottish merchants set their sights on the Isthmus of Panama, which was under the sovereignty of Charles II. Considerable historiographical attention has been paid to this episode, beginning in the 19th century. However, the Spanish response, the Monarchy's efforts to preserve territories that were strategically critical for the flow of goods and precious metals, is much less well known.
This project explains the multi-layered reaction – political-diplomatic, financial and military – of a supposedly decadent monarchy. Based on the latest research trends, it shall combine different factors and variables to explain the process of occupation and the eventual abandonment of the Scottish colony in Darien, their failure and the Spanish imperial power in the context of the succession's crisis.
- 2022. "Ecos de la Restoration. La misión diplomática de Sir Richard Fanshawe en España", in Cristina Bravo Lozano and Fernando Quiles (eds.), Lady Ann y el embajador viajan a Sevilla (primavera de 1664), Sevilla-Santiago de Compostela, Enredars Publicaciones- Andavira Editora, pp. 77-102.
- 2021. "Hymenaeus in The Hague: Celebratory uses of Spanish diplomacy at the United Provinces (1649)", in Tibor Martí and Roberto Quirós Rosado (eds.), Eagles Looking East and West. Dynasty, Ritual and Representation in Habsburg Hungary and Spain, Turnhout, Brepols, pp. 231-258.
- 2021. "Los colegios-seminarios de nación de las islas Británicas en España: una memoria inédita de 1767", Anuario de Historia de la Iglesia, 30, pp. 1-27.