Susan Larson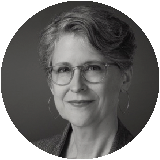 2021-2022
François Chevalier
Texas Tech University
Comfort and Domestic Space in Spain from the Civil War through the Transition
Susan Larson received her PhD from the University of Arizona and is the Charles B. Qualia Professor of Romance Languages in the Department of Classical and Modern Languages and Literatures at Texas Tech University. Her research, funded by the National Endowment for the Humanities and the Fulbright Commission, lies at the intersection of Spain's urban culture, cultural geography, historical avant-garde and film and literature since 1900. She is the author of Constructing and Resisting Modernity: Madrid 1900-1936 (Vervuert / Iberoamericana, 2011) and editor of Kiosk Literature in Silver Age Spain: Modernity and Mass Culture (Intellect Books, 2016 with Jeffrey Zamostny) and Visualizing Spanish Modernity (Berg Press, 2005, with Eva Woods Peiró). She is the Executive Editor of the Romance Quarterly and co-edits (with Benjamin Fraser) Palgrave Macmillan's Hispanic Urban Studies book series.
The project Comfort and Domestic Space in Spain from the Civil War through the Transition examines the real and symbolic meanings of domestic space in Spain during the period 1939-1982 through a critical analysis of the media-driven concept of comfort. Working under the assumption that comfort is a particularly complex cultural and political narrative closely related to ideas about modernization, the nation, class conflict, the right to housing, intimacy, the body and the family, this research unpacks the meanings of everything from the aspirational and futuristic images of the interiors of Spanish homes to the social criticism of the potential dangers of domestic space found in architectural plans, manifestos and a variety of forms of mass media such as journalism, advertising, comics, trade magazines, film and literature.
2021. "La vanguardia en la arquitectura española (1920-1936): ¿proyecto inacabado o proyecto indefinido?" in Jordi Gracia and Domingo Ródenas de Moya (eds), Madrid, Visor Libros. pp. 165-191.
2021. "Naturaleza, lo monumental y las redes tecnológicas urbanas de Edificio España (2012) y La ciudad oculta (2018) de Víctor Moreno", ZARCH: Journal of Interdisciplinary Studies of Architecture and Urbanism, 16, pp. 14-53.
2021. (ed) Language, Image, Power: Luso-Hispanic Cultural Studies Theory and Practice, New York, Routledge.
2021. (ed) Architecture and the Urban in Spanish Film, Bristol, Intellect Books.