Lilian R. Goncalves Diniz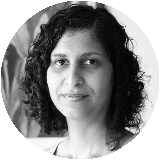 2021-2022
François Chevalier
Freie Universität Berlin
CONVERSIO – conversion, apostasy and culture in Visigothic Spain – Religion, Society and Interchange
Lilian R. G. Diniz has a PhD In Medieval History from the University of Padua (Italy) and the University of Vienna (Austria). She is currently a post-doc fellow at the Freie Universität of Berlin, financed by the program PRIME of the German academic exchange service (DAAD). This project investigates written and material sources that attest to the development of popular religion and unorthodoxy in Early Medieval Galicia. Her research interests are religious conversion and popular piety from Late Antiquity to the Early Middle Ages, with a focus in subversive religious behaviour, people's agency, syncretism and religious crafting. With a background in archaeology, she is also interested in material culture and how to relate its testimony with written sources. She has been a visiting researcher at the centre ANHIMA – Anthropologie et histoire des mondes antiques at the EHESS in Paris, the OEAW - Austrian Academy of Sciences in Vienna, and the Universidad Autónoma de Madrid. She was recently awarded a Junior fellowship at the RomanIslam centre of the University of Hamburg.
How was religious conversion carried out in Spain under Visigothic rule and during the first period of Islamic domination and what were the cultural and political consequences? In CONVERSIO, she will investigate the processes of religious conversion in Early Medieval Spain during the Visigothic Kingdom from the 5th to the 8th century and the subsequent period of consolidation of Islamic domination until the 9th century. CONVERSIO has a twofold objective: first, to shed light on the historical and anthropological approaches to religious conversion and on cultural interaction in the Medieval period, focusing on the interaction between Christians, Jews and Muslims; second, to understand and analyse the tension between conversion and apostasy.
The Visigothic Kingdom of Spain, which lasted from the 5th to the 8th century, and the period immediately after its downfall provides an interesting and well-documented setting for developing a project on religious conversion which also includes apostasy as a practice that could mirror the process of conversion. Apostasy is a rich, crucial and neglected concept that can profoundly illuminate the study of social and religious relations.
Forthcoming. "How to Be Both: Individuating Religious Hybridity in Material Culture in Early Medieval Gaul", Interdisciplinary Studies in Ancient Culture and Religion. Leuven, Peeters.
2021. "Valerius of Bierzo as an interpreter of the ecclesiastical environment of Northwest Spain", Journal of Medieval Iberian studies, vol.13, n.2, pp. 145-163.
2017. "Diffusione del cristianesimo e fenomeni di ibridazione culturale dalla tarda antichità al medioevo in Europa Occidentale", Adamantius. Annuario di Letteratura Cristiana Antica e di Studi Giudeoellenistici, 23, pp. 215-225.
2014. "Paganism and traditional practices in the sermons of Caesarius of Arles", in M. VINZENT and A. BRENT (eds.) Studia Patristica Vol LXXIV - Including Papers presented at the Fifth British Patristics Conference, London, 3-5 September, Leuven, Peeters, pp. 393-400.