María Paz OLIVER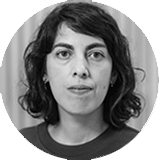 2018-2019
Universidad Adolfo Ibáñez (Chile)
Mobility Aesthetics: Wandering in Contemporary Latin American Migrant Literature.

María Paz Oliver is Assistant Professor of Literature at the Faculty of Liberal Arts at the Universidad Adolfo Ibáñez (Chile). She was a postdoctoral researcher at the Radboud Universiteit Nijmegen and is currently working on the Fondecyt Postdoctoral project "A pie: representaciones de la caminata urbana en la literatura latinoamericana contemporánea".

She has been a visiting scholar at the Department of Latin American and Iberian Cultures (LAIC) at Columbia University and an associate researcher in the IRSES project "TRANSIT. Transnationality at Large: the Transnational Dimension of Hispanic Culture in the 20th and 21st Centuries" (funded by the European Union). Her areas of research focus on space and urban psychogeography, migrant identities, memory and everyday life.

She has published articles on contemporary Latin American literature in journals such as Iberoromania, Neophilologus, Confluencia and Bulletin of Hispanic Studies, among others.

This project aims to investigate the concept of wandering, as defined as vagrancy, drifting and aimless movement, in the work of a range of contemporary Latin American authors resident in both Europe and United States; the two most significant destinations for Latin American migrants as from the mid-20th Century.

The hypothesis of this study is that the concept of wandering within the city, a key tenet of contemporary mobility, is the prime means by which the experience of migration is represented in contemporary Latin American fiction. This project will foreground digression as a distinctive narrative strategy, examining how aimless movement takes on a political resonance in the writing of migrant fiction.

Despite the impact of migration and mobility in the globalised world, no systematic study that deals with the phenomenon of wandering in both thematic and stylistic terms has been undertaken to date. In addition to exploring a tendency that has characterised Latin American literature over the past twenty years, this project will also contribute to broader theoretical debates on the issue of wandering and the manner in which movement is portrayed.

- Oliver M. Paz, El arte de irse por las ramas. La digresión en la novela latinoamericana contemporánea. Leiden-Boston, 2016.
- Oliver M. Paz "Mirar animales: la caminata por el zoológico en Desubicados de María Sonia Cristoff y Paraísos de Iosi Havilio", Revista de Estudios Hispánicos, 52, 2018, pp. 617-637.
- Oliver M. Paz, "Paseos sagrados: caminata y peregrinaje en Poste restante de Cynthia Rimsky", Revista Iberoamericana, 84/263, 2018, pp. 407-422.