Ximena RONCAL VATTUONE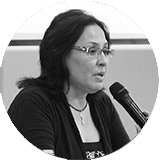 2018-2019
Universidad San Francisco Xavier de Chuquisaca (Bolivia)
Living Well in front of Climate Change: An alternative proposal to the Capitalist System

Ximena Roncal Vattuone is an economist and PhD in political economy of development by the Benemerita Autonomous University of Puebla. She is a member of the National System of Researchers of the National Council of Science and Technology (CONACYT, Mexico).

Postdoctoral Researcher in Comparative University Education Policies by the International Integration Institute of the Andrés Bello IIICAB Agreement, Bolivia. Professor of undergraduate and postgraduate in different universities in Mexico and Latin America in areas of Seminar Research, World Economy and Economic Policies. Her lines of research are Economic Development of Latin America and University Education.

She has written several articles and is the author of books including "ALBA-TCP as an alternative integration strategy for the development of Latin America and the Caribbean" (2013), "Research in times of transformation" (2014), and co-author of "Mexico 2018-2024, New Development Strategy" (2018) "University Educational Experiences in Mexico and Bolivia" (2018). "Global economic crisis and the future of globalization" (2012).

One of the most controversial and concerning issues worldwide in recent decades has been the collapse of the world's capitalist system and the impact this has generated on nature, where global warming shows that humanity has broken its own record of devastation.

Innumerable answers have been provided to this problem, among which is the Paradigm of "Living Well," a proposal that arises from the worldview of the Andean indigenous peoples who recognize nature as a subject with rights and propose the deconstruction of development due to individuality and anthropocentrism.

The general objective of the research is to analyze if the "Living Well" paradigm is a real alternative, with global projection, to the linear development that has led the world to the commodification of nature.

- Roncal Vattuone X., "Comparative Study of Education Policies University", in Bolivia, Colombia, Cuba, Mexico, Nicaragua and Venezuela, La Paz-Bolivia, 2014.
- Roncal Vattuone X., "Notes on Foreign Direct Investment in Latin America", Digital Magazine Research and Business, USFX-Bolivia, February 2018.
- Roncal Vattuone X., "Nature… a Subject with Rights. Notes for reflection", Integra Educational Magazine, 6/3, La Paz-Bolivia, February-March, 2013.