Tommaso Giovanni Mozzati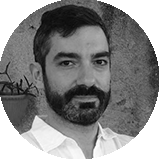 2022-2023
Marcel Bataillon fellow
Università degli Studi di Perugi
The Casón del Buen Retiro and its exhibitions between 1959 and 1971: cultural policy and propaganda under Second Francoism.
Tommaso Mozzati is a researcher at the Dipartimento di Lettere of the Università degli Studi di Perugia. Interested in sculptural production in Italy and Europe during the sixteenth century with a particular focus on Spain, his research has also and repeatedly turned to the propagandistic use of Renaissance and Early Modern artists in the political context of the twentieth century.
He has published extensively in scholarly publications such as The Burlington Magazine, Sculpture Journal and Archivo español de arte. He collaborated as curator for several exhibitions with the Galleria degli Uffizi, the Museo Nazionale del Bargello, and the Gabinetto Disegni e Stampe degli Uffizi. In recent years, he has been selected as a fellow by major international institutions, including the Italian Academy of Columbia University, Villa I Tatti - The Harvard University Center for Renaissance Studies, the Kunsthistorisches Institut in Florenz,the Metropolitan Museum in New York.
The project investigates the use of a space central to the Madrid map, namely the Casón del Buen Retiro managed by the Francoist government through the Ministerio de Educación Nacional.
Restored in the late 1950s, the building hosted an important series of exhibitions in the following fifteen years, linked to a busy calendar of anniversaries and dedicated to the most prominent names in Spanish art history, from Velázquez to Goya, Berruguete to Sorolla. Tied to a coherent project, these events were organized by the Directores generales de Bellas Artes nominated during the same time frame, namely Antonio Gallego Burín, Gratiniano Nieto Gallo, and Florentino Pérez-Embid Tello.
Because of the relevance of these personalities, the involvement of government hierarchies, and because of the ambition of each event, the use made of the Casón constitutes a significant case-study for investigating the propaganda of the Second Francoism, along the repositioning of Spain on the international stage thanks to a moderate "aperturismo" on an economic and cultural level.
- 2021. The Vélez Blanco patio and United States-Cuba Relationships in the 1950s, The Metropolitan Museum Journal, no. 56, pp. 49-64.
- 2021. El Casón del Buen Retiro y la exposición centenaria del Alonso Berruguete en 1961: cultura y propaganda entre España, Europa y America Latina, Archivo español de arte, XCIV, no. 357, pp. 281-296.
- 2021. Celebrating Alonso Berruguete: Art History and the Spanish Identity, before and after the Civil War, Sculpture Journal, XXX, no. 1, pp. 53-70.
- 2016. "Il sentimento dei servigi". Giorgio Castelfranco, Leonardo e la mostra didattica per l'anniversario vicniano del 1952, Bollettino d'arte, CI,, pp. 89-104.