Veronica Cremaschi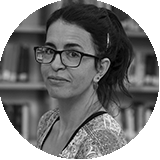 2022-2023
François Chevalier fellow
CONICET
State-provided dwelling units in the first half of the 20th century as urban cultural heritage. An analysis of Madrid's experiences in patrimonialization.
Verónica Cremaschi (Mendoza, 1979) is a Researcher at the Consejo Nacional de Investigaciones Científicas y Técnicas (National Scientific and Technical Research Council) in Argentina, and a full professor of History of Art Criticism at Facultad de Artes y Diseño (Universidad Nacional de Cuyo). She received undergraduate degrees in art history. She is also a specialist in Production of Critical Texts and Art Media Dissemination (Universidad Nacional de las Artes), and earned a Ph.D. in History (Facultad de Filosofía y Letras, UNCuyo).
Her research focuses on the history of Art and Architechture in the first half of the 20th century, approached from social and cultural perspectives. Since her undergraduate studies, she has been a member of several research groups, funded by the UNCuyo and CONICET. She is author of the book "Mendoza monumental: La arquitectura estatal en la prensa de la década de 1930," and the co-author of books related to heritage issues. She has presented her work at numerous conferences and has published more than twenty articles in various scientific journals.
The project aims to study the patimonialization processes of state housing in Madrid, Spain, in recent years. This interest stems from previous research that has delved into the implementation of state housing in the first half of the twentieth century in Mendoza and Argentina. This subject, present in the governmental agendas of this period, has produced interesting examples of neighborhoods and housing complexes that conform our cities, but its study currently presents an important void as regards heritage evaluation. Due to urban growth and real estate speculation, many of these neighborhoods and complexes are under threat. We understand that heritage is achieved through legal declaration, but it is also necessary to build social consensus. This is why this project seeks to focus on the processes that have given rise to the heritage valuation of residential complexes in Madrid, with the aim of approaching different experiences that are potentially applicable to local cases.
- 2021. "Las viviendas de emergencia en el posterremoto de 1944 en San Juan. Discursos en torno a su implementación." Registros, 2, pp. 112-130.
- 2020. "Valoración social del patrimonio. Una experiencia en escuelas, Mendoza-Argentina." Quiroga. Revista de patrimonio iberoamericano, 17, pp. 10-21.
- 2019. Mendoza Monumental. La arquitectura estatal en la prensa de la década de 1930. Mendoza. EDIUNC.
- 2015. "Hoteles monumentales. El impulso al turismo durante los gobiernos demócratas en la provincia de Mendoza, Argentina. (1930-1943)". Caiana, 6, pp. 101-118.
- 2014. "El estilo neocolonial como modernismo latinoamericano" Arquitecturas del Sur, 45, pp. 64-76.